Works Discographies Publications and Links Events Biography News Photos Feedback Home
A Garland for John McCabe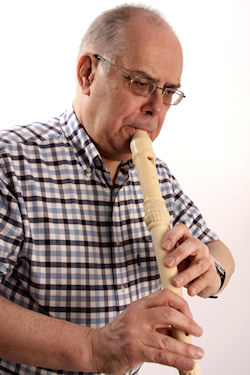 John Turner
The concert of pieces composed in memory of John McCabe, and performed on 29th October 2016 as part of the Rawsthorne Day at the Royal Northern College of Music, was an entire success. Thanks to the efforts of recorder player John Turner, who took part in the performances, both at the McCabe celebration and also in the evening, 13 works were performed, all relating in some way to John. Some were written utilising letters of his name, some took off from his particular musical loves, while others referred to non-musical interests. The pieces were written for all, or some, of the following instruments – recorder (John Turner), clarinet (Linda Merrick), viola (Alistair Vennart) and piano (Peter Lawson), and the new works were as follows:-
Peter Dickinson - A Rag for John McCabe (rcdr, clar, vla, pno))
Robert Saxton - A Little Prelude for John McCabe (rcdr, clar, vla, pno)
Howard Skempton - Highland Song (rcdr, clar, vla)
Elis Pehkonen - Lament for the Turtle Dove (clar, pno)
Malcolm Lipkin - In Memoriam John McCabe (clar, vla, pno)
Martin Ellerby - Nocturnes and Dawn (Patterdale) (vla, pno)
Rob Keeley - Elegy for John McCabe (clar, pno)
Gerard Schurmann - Memento (pno)
Anthony Gilbert - The Flame has Ceased (rcdr, vla, pno)
Christopher Gunning - Danse des Formis (rcdr, clar, pno)
Raymond Warren - In Nomine (rcdr, pno)
Emily Howard - Outback (rcdr, clar, vla, pno)
Gary Carpenter - Edradour (rcdr, clar, vla, pno)
A very enjoyable Memorial concert also took place in Blythburgh on 7th October 2016, as part of the William Alwyn Festival. There the performers were John Turner (rcdr) Linda Merrick (clar), Sarah-Jane Bradley (viola), and the pianists Mark Bebbington and Nathan Williamson. Memorial works were written by Peter Dickinson, as before, David Matthews (Chaconne), William Marshall (Little Passacaglia), James Francis Brown (Evening Changes), John Joubert (Exequy), and Robin Walker (And will you walk beside me down the lane). John Turner also played Desert IV: Vista for solo recorder. Mark Bebbington played Berceuse: Study No. 13, as well as favourite works of John's by Ravel and Haydn, while Linda Merrick and Nathan Williamson performed his Three Pieces for Clarinet and Piano.

Works Discographies Publications and Links Events Biography News Photos Feedback Home
Site design and content copyright © 1997-2017 John McCabe Estate, all rights reserved.