John McCabe - biography
John McCabe - biography


John McCabe - a biography
by Michael Kennedy
If one wished to cite what one meant by an all-round musician, the name of John McCabe would be the first of contemporary examples to present itself. Composer of works in many forms (except the large-scale opera), virtuoso pianist, writer, administrator (seven years as director of the London College of Music), organiser of fellow-composers, these add up to McCabe, born in Huyton, Liverpool, in 1939 and trained as a musician at Manchester University and the "old" Royal Manchester College of Music which he entered in 1960 as a piano pupil of the late and great Gordon Green and a composition student with Thomas B. Pitfield. He was in the next college generation after Birtwistle, Goehr, Ogdon and Maxwell Davies and he followed Ogdon's tradition by performing his own works at examination concerts as well as, for example, Elliot Carter's Piano Sonata and Copland's Variations. Under the auspices of the Principal, Frederic Cox, he acted as répétiteur for some of RMCM's famous opera productions and even, at Cox's request, arranged some of Beethoven's music such as the Piano Sonata Op.31,No.1, as sung recitative in place of spoken dialogue in Fidelio! It was a thorough all-round training for an all-round musician.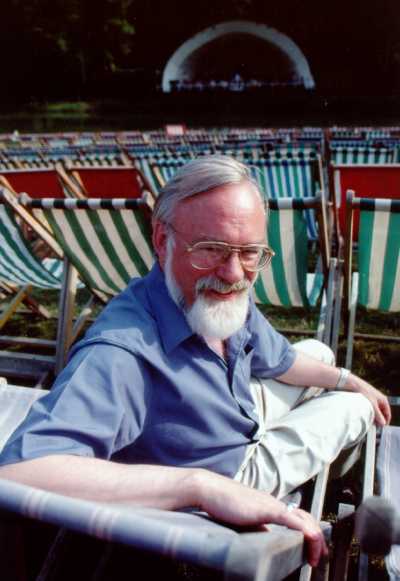 From the RMCM to a year at the Munich Hochschule für Musik, where he heard the music of Karl Amadeus Hartmann, then to three years from 1965 as resident pianist at University College, Cardiff. In the meantime it was Manchester's orchestra, the Hallé, which launched his career as a composer, when in March 1963 Martin Milner was the soloist in the First Violin Concerto (1959). Two years later Maurice Handford conducted the work that put McCabe on the map, Variations on a Theme of Hartmann (1964) and this led to a Hallé commission for a symphony (No.1, Elegy, 1965) which Sir John Barbirolli conducted at the Cheltenham Festival of 1966. Here already, it was obvious to some listeners, was a composer who was in touch with the major trends of 20th century music (including jazz) and was not bewitched by avant-garde fashions. He was also in touch with his audiences, even if listeners to the BBC Music Programme under the austere rule of Sir William Glock were excluded.

Much of McCabe's music has been commissioned, the Piano Concerto No.1 by Southport's centenary festival of 1967, the Metamorphosen for harpsichord (composer as soloist, 1968) and orchestra by the Royal Liverpool Philharmonic Society, the Concerto for Orchestra (1982) by the London Philharmonic which gave the first performance with Sir Georg Solti conducting - and he liked it enough to take it to the Chicago Symphony Orchestra. Another break-through work was a commission by the Hereford Festival for the Three Choirs meeting in 1970: this was Notturni ed Alba, a setting of medieval Latin texts for soprano and orchestra which at once caught the public imagination with its ecstasy and vocal virtuosity and was soon recorded.

Since then there has been a steady flow of works for orchestra, wind and brass, chamber ensembles including five string quartets, organ, piano (but not yet a sonata), vocal and choral, and theatrical. A dramatic element underlines all McCabe's music. His Second Symphony (1971) has been used as a ballet based on The Turn of the Screw and a ballet was devised in Stuttgart to the music of his 30-minute tone-poem (for want of a better description) The Chagall Windows, another Hallé commission and first conducted by James Loughran in 1975. In his Fourth Symphony (1994-5), sub-titled Of Time and the River, an exchange commission between the Australian Broadcasting Commission and the BBC, there seems to be an unstated programme which some choreographer will surely appropriate. McCabe's gift for dramatic narrative was displayed as early as 1968 in the enchanting children's opera The Lion, the Witch and the Wardrobe, one of C.S.Lewis's Narnia stories cleverly turned into a libretto by Gerald Larner. The Play of Mother Courage (1974) followed, a chamber opera in the Britten style, but McCabe's major stage work of the 1970s was the two-act ballet Mary, Queen of Scots (1975). Another historical subject, Edward II, based on Christopher Marlowe's play, inspired the full-length ballet he wrote for Stuttgart Ballet and the choreography of David Bintley. This work was enthusiastically received at its 1995 première and no wonder, for the music is not only extremely "danceable" but a score in which all facets of McCabe's style are drawn and fused together in a totally satisfying whole. There is no fake medievalism - McCabe suggests the period without period instruments by writing music that stimulates the imagination into believing that we are attendant upon the gruesome story of Edward's folly and his murder. Only Maxwell Davies among British composers has written as powerful and effective a ballet score since Britten's The Prince of the Pagodas. *

What is the McCabe style? If one seizes on other names to describe it - Bartók's and Stravinsky's rhythms, Nielsen's sense of key - that is only to relate it to a particular vein of 20th century music and not to suggest eclecticism. As a man of his time, he has flirted with serialism, drawn inspiration from rock and jazz and in some recent works, such as the Double Concerto for oboe and clarinet and Rainforest I, has nodded in the direction of minimalism. McCabe's music is on the whole life-enhancing, optimistic, but in almost every work there comes an explosive, eruptive moment as if some dark fear returns to haunt his creative intelligence. It may begin as a percussive outburst or it may be signalled by a snarl from the brass. One can never take a McCabe work for granted. He is a composer who thinks out a fresh approach to whatever he tackles. Has there ever been an angrier, more dissonant flute concerto? This is no concerto (1990) for the flute of Syrinx or of anodyne hotel-lounge Muzak. Instead, McCabe gave James Galway a work in which the soloist has to be a strident Orpheus trying to tame the Furies and not succeeding too well. The Double Concerto (1987-8) is unusual in that the solo instruments are heard together for most of the time and the Oboe Concerto (1994) is far removed from the idylls created by Strauss and Vaughan Williams. The soloist's repeated-note leitmotif undergoes many transformations in a challenging and toughly argued work which is another demonstration of McCabe's fondness for one-movement form. His greatest strength, to be heard in the distinctive timbres and striking harmonies of the orchestral piece Fire at Durilgai (1988), lies in his ability to conjure with short motifs, making patterns and obsessive phrases from them. These give a restless quality to his music, a nervous sense of excitement under control, that is his trademark. Yet there are broad melodies, too, as can be heard in Edward II, the Fourth Symphony and in many other works.

No attempt to paint a verbal portrait of McCabe would be complete without reference to the solo piano music, notably the Haydn Variations of 1983 in which intellect and instinct coalesce. The variations are a reminder of McCabe's prowess as a pianist and particularly as a Haydn pianist. His recording of all the Haydn sonatas, now reissued on 12 CDs by London, is a monumental achievement, and he has also recorded piano music by Satie, Vaughan Williams, Grieg and Webern as well as by Scarlatti and Clementi. He gave the British première of John Corigliano's complex concerto and introduced the Delius concerto to Denmark. Yes, an all-round musician, feet on the ground but taking his music, like Elgar, from the air all around him. There is much more music to come from him and no one can foretell in which direction it may go except that it will come from the heart and be crafted by a wise and cool head.
Michael Kennedy

This biography of John McCabe was written in early 1996 and is reproduced here with the permission of the author.
Since the biography was written, McCabe completed two more full-length ballets for David Bintley/Birmingham Royal Ballet, namely the Arthurian cycle Part I: Arthur Pendragon, and Part II: Le Mort d'Arthur.
The photograph is by John Scott (courtesy of British Bandsman).
An updated (2001) short biography by Guy Rickards, available in English, French and German, is available on the Chester/Novello website.