Arthur Pendragon back in the catalogue
Arthur Pendragon back in the catalogue


Arthur Pendragon back in the catalogue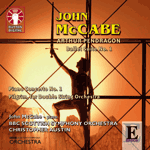 Good news! The outstanding CD of McCabe's Ballet Suite No 1 from Arthur Pendragon on Dutton Epoch CDLX 7179 is now back in the catalogue. The Ballet Suite is coupled with the McCabe Piano Concerto No 1, performed by the composer, and his outstanding work for Double String Orchestra, Pilgrim.
These are all wonderful performances, with the BBC Scottish Symphony Orchestra conducted by Christopher Austin. The three works were recorded at City Halls, Glasgow, and reviews from the original release, in 2007, are to be found below.
Arthur Pendragon was the first ballet in a two whole-evening ballet by David Bintley for Birmingham Royal Ballet, the second being Le Mort d'Arthur. Together they make an outstandingly original and brilliant story-ballet on Arthurian themes, and as with the earlier McCabe/Bintley collaboration Edward II, the ballet and the music work perfectly together.
Reviews
"It is an additional pleasure to welcome without reservation a CD of orchestral music by John McCabe, the more so as the composer - an excellent and selfless pianist - is the soloist in his own First Piano Concerto ... The Piano Concerto ... frequently did not do what I half-expected it to do. I had to go back to it quite a few times, on each occasion finding more within the score, until I now know it to be an outstanding composition, very finely performed on this disc. The work which immediately caught my imagination is Pilgrim - which struck me forcibly as a work of high quality indeed. As Calum MacDonald rightly says in his admirable booklet notes, this work can stand alongside the Tallis Fantasia and Tippett's Concerto for Double String Orchestra as another supreme example of English string writing. The conductor Christopher Austin secures a noble performance and the strings of the BBC Scottish Symphony excel themselves ... the relatively recent ballet scores of McCabe have shown what can be achieved by a gifted and imaginative composer in this field. I have not seen Arthur Pendragon, but on the basis of the concert suite on this disc I should very much like to. There are four movements ... which receive here vital performances in vivid dramatic style, very well recorded."
Robert Matthew-Walker, International Record Review, July 2007
"The influences of Poulenc and Stravinsky are fully absorbed in this crisp 20-minute concerto (1967) with McCabe the impressive soloist. A more mature McCabe is heard in the Arthur Pendragon suite from a full-length ballet, truly theatrical music, scored with consistent skill. This enterprising disc is completed by Pilgrim (1998 version for double string orchestra). Inevitably there are echoes of Vaughan Williams, but McCabe's work stands on its own as a very individual and moving act of homage. The BBCSSO strings play with white-hot eloquence under Christopher Austin and the recording is full and resonant."
Michael Kennedy, The Sunday Telegraph, 8th April 2007
"I remember poring over this piano concerto in Manchester's Henry Watson Music Library in my teens, eager to see how "modern music" was written, but not until now have I heard the piece. Its opening at once brought back the notation - piano trills stretching over pages. The soloist's entry, remarkably, is a minute-long trill, recalled in the third movement. The overall four-part structure is complex and dramatic, the idiom lean and laconic, and, in this account, the work has an often explosive energy. Austin contrives a splendid climax in the string-orchestral Pilgrim, and gives a fiercely committed reading of music from the David Bintley ballet Arthur Pendragon."
Paul Driver, The Sunday Times, 6th May 2007
"Dutton's third John McCabe programme is again built around a piano concerto (10/03, 2/04), in this instance the First (1966) in a strong, vibrant performance from the composer himself. I have long been amazed why this splendid work, written for the 1967 Southport Centenary Festival, has not been recorded before (McCabe's omission from Naxos's British Piano Concerto series is a glaring fault) so Dutton's committed advocacy is unequivocally to be welcomed.
"... Although Bunyan's book was the inspiration, the single-span Pilgrim is not illustrative, rather a slow fantasia with two quicker sections, like a scherzo and trio in negative. As with the concerto's finale, Pilgrim shows how danceable McCabe's concert music is (several works have been successfully choreographed).
"The largest item is a suite from his recent ballet diptych, Arthur (1998-2001) ... The vigour and drive of "Uther and the Tribes" and "The Tourney" (in which Arthur draws Excalibur from the Stone) contrasts with the poignant beauty of "Igraine and Uther". The finale, "The Lovers", is a complex conflation of two pas de deux for Lancelot and Guinevere and the ballet's climax, Arthur's vain and misguided massacre of the innocents (attempting to destroy the infant Mordred). Powerful stuff, the BBC Scottish SO's performance under Christopher Austin is inspired. With excellent sound, this issue is very strongly recommended."
Guy Rickards, The Gramophone (June 2007)
"It's difficult to get away from the impression that John McCabe means his music to be enjoyed. There is nothing hermetic or self-aggrandizing here, still less any desire to shock the audience into some sort of notional higher consciousness. His style is wide ranging. It can echo late Stravinsky, Tippett or the German symphonist Karl Amadeus Hartmann ... but all with an unmistakable English accent, and with something which - for want of a better phrase - can only be called the common touch. Even at its most abrasive or ingenious, it still has something of Malcolm Arnold's directness and open-heartedness ... The most consistently fine and distinctive piece is Pilgrim - what is it about massed strings that so often brings out the best in English composers? The strings of the BBC Scottish sound as though they enjoy every moment of it; but the whole disc conveys conviction and dedication, and the composer makes a strong and authoritative soloist in the Concerto."
Stephen Johnson, BBC Music Magazine, August 2007