Edward II ballet
Edward II ballet


Music: John McCabe
Choreography: David Bintley
Sets: Peter J. Davison
Costumes: Jasper Conran
Lighting: Peter Mumford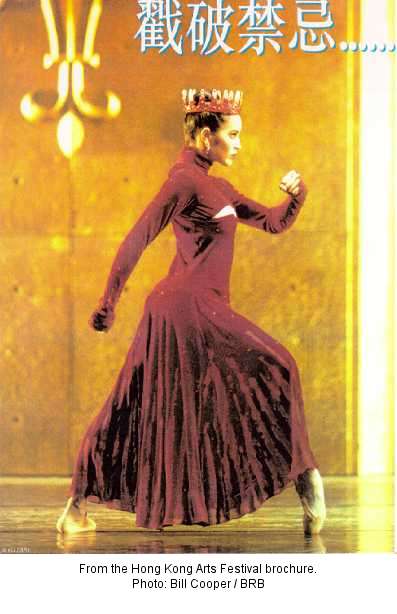 Edward II is a ballet in two acts, lasting approximately two hours. The work was commissioned by Stuttgart Ballet, and first performed in Stuttgart on April 15th 1995.
It was an immediate, stunning success, receiving a 15-minute standing ovation on its first night. Subsequently, Stuttgart Ballet gave upwards of 25 performances of the ballet.
The UK première was given by the Birmingham Royal Ballet, at the Birmingham Hippodrome, on October 9th 1997. The two main roles, Edward and his queen, Isabella, were danced by Wolfgang Stollwitzer and Sabrina Lenzi, who had also danced these parts for Stuttgart Ballet. In Birmingham Royal Ballet's fine company these roles were also danced by Kevin O'Hare (Edward) and Leticia Müller and Monica Zamora (Isabella). Other leading roles were taken by David Justin, Yuri Zhukov, Andrew Murphy, Joseph Cipolla and Robert Parker. The BRB Sinfonietta, leader Beverly Davison, was conducted by Barry Wordsworth for the première, with other performances conducted by Paul Murphy or Philip Ellis.
Edward II, born in 1284, was the youngest of 14 or more children of Edward I and his queen, Eleanor of Castile, and it was only the tragedy of child mortality of the period that brought him to the throne. Furthermore, his mother died when he was only six, and his father was constantly away at war. Edward developed a close relationship with Piers Gaveston, which so troubled his father that Gaveston was sent into exile. Meanwhile, in 1308, Edward was married to the French princess, Isabella, for reasons of diplomacy.
One of Edward's first acts, on ascending the throne at the death of his father, was to recall Gaveston from exile, to the consternation of his young bride, and it is here that the tragedy begins which was to culminate in Edward's cruel and appalling death, at the hands of Isabella and her lover, Mortimer.
The ballet of Edward II was created by David Bintley from the play by Christopher Marlowe, probably the greatest of Shakespeare's rival playwrights, and himself a homosexual, who died by violence, in a tavern brawl, at the age of 29.
The UK première was attended by HRH The Princess Margaret (somewhat to the consternation of sections of the British tabloid press).

Other ballets by John McCabe include :-
Arthur - Parts I and II (1999-2001): see separate news item.
The Teachings of Don Juan (1973): Ballet with text, by Monica Smith, from the book by Carlos Castenada. Commissioned by the Northern Dance Theatre, and first performed May 30th 1973.
Choreographed by Suzanne Hywel
Mary Queen of Scots (1975): Ballet in 2 acts, with scenario by Noel Goodwin. Commissioned by Scottish Ballet, and first performed March 3rd 1976, in Glasgow.
Choreographed by Peter Darrell.
Ballets have also been created to the following orchestral works by John McCabe:
Notturni ed Alba. Munster State Ballet, Westfallen, Germany.
First performed April 1976.
Symphony No. 2 / additional music from the Hartmann Variations, under the title of Shadow-reach, to a scenario based on The Turn of the Screw (Henry James). Irish Ballet Company.
First performed June 19th 1978.
Choreographed by Domy Reiter-Soffer.
The Chagall Windows under the title Die Fenster. Stuttgart Ballet.
First performed February 16th 1980
Choreographed by Rosemary Hellewell.