Fanfare gives John McCabe 'Garland' CD two reviews
Fanfare gives John McCabe 'Garland' CD two reviews


Fanfare gives John McCabe 'Garland' CD two reviews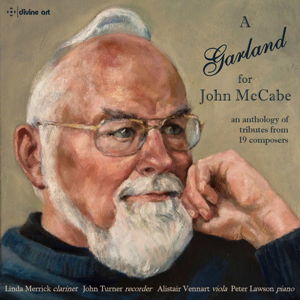 Leading US classical record magazine Fanfare has devoted not one review to 'A Garland for John McCabe', but two very lengthy reviews.
The first, by David DeBoor Canfield states: 'John McCabe….was indeed a composer with a remarkable talent. I consider him to have been a genius, and have ever since I first became acquainted 30-plus years ago through an EMI LP that contained his Chagall Windows and Symphony No. 2. He was also a superb pianist, and graciously promoted through performance the works of many composers in and outside of the UK…' After enumerating some of the works on the CD he concludes, '…I have no trouble at all giving this collection an enthusiastic recommendation. I believe you will be touched, too.'
Colin Clarke, in the second review, is equally generous and enthusiastic: '…My own memories of my brief encounters with McCabe remember him as a happy, enthusiastic man…Let us celebrate the man and his music, as well as his infectious enthusiasm.' An even longer review than the first, covering all 19 of the tribute pieces, he finishes: 'The disc is a wonderful tribute to a major compositional talent for whom recognition is yet to come… The next step is a fully fledged re-appraisal of McCabe's own music, of course.'
'A Garland for John McCabe' is on Divine Art CD dda 25166, and features Linda Merrick (clarinet), John Turner (recorder), Alistair Vennart (viola) and Peter Lawson (piano).