Farewell Recital on CD
Farewell Recital on CD


Farewell Recital on CD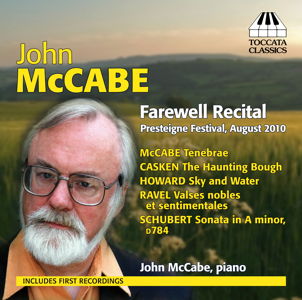 A CD was released by Toccata Classics (TOCC 0139) of McCabe's Farewell Recital, at the Presteigne Festival in 2010, and has received outstanding reviews. The recording, which omits two items from the concert previously recorded elsewhere, consists of Schubert's haunting Sonata in A minor D 784, and the Ravel Valses Nobles et Sentimentales, along with John Casken's The Haunting Bough, and Emily Howard's Sky and Water. McCabe's own massive Tenebrae, written in memory of three musical friends who died in the same year - Sir Charles Groves, William Mathias and Stephen Oliver, completes the disc.
REVIEWS
"In a different world, this recital would make a wonderful calling-card. Alas, in Presteigne on the Welsh borders, in August last year, John McCabe decided that at 70-plus, it was time quietly to ring down the curtain, at least on that part of his activity which involved playing the piano professionally ...
"John Casken is an acknowledged master, and his five-minute The Haunting Bough is virile and compressed ... Emily Howard (a Liverpudlian like McCabe) is perhaps these days not so much up and coming, as arrived: her Sky and Water, only a minute or so longer than Casken's piece, is more cerebral, sparser, linear ... it is absolutely typical of McCabe's selflessness that he should include them in his farewell recital and deliver them with due style and conviction.
"Quite rightly, this fine composer-pianist also leaves us with an outstanding performance of a piece of his own. His Tenebrae — the title, with its suggestion of darkness and shades, is well chosen for a work that I suspect has quite a dark heart — is at once extremely challenging pianistically, in its almost Lisztian cascades of notes, and intellectually, in that McCabe's idiom here is often astringent and sometimes aggressive. The note of defiance is, not surprisingly, superbly realized in the composer's own performance, as is its peaceful resolution ...
"Still we have not reached the hard core of what must have been a real musical feast, that day in Wales ... The Sonata, D784 might in some hands seem like the lesser of Schubert's two late A minor works, but not here. The first movement has always been hailed as a journey of quasi-tragic intensity, fully apparent here ... the slow movement may seem 'only' like an intermezzo, but here the song is deep and heartfelt; and he lends the helter-skelter perpetuum mobile finale an element of Lisztian bravura (again!) which is not at all out of place.
"Possibly more astonishing still comes a marvellous rendition of Ravel's Valses nobles et sentimentales ... There is no mere prettiness here but instead a clear anticipation, perhaps indeed a matching, of La valse.
"... The final track is an encore in the tiny shape of Frank Bridge's 'Heart's Ease' (the first of Three Lyrics): a fond farewell, perhaps, but an entirely unsentimental one, and beautifully and tenderly done. Oh that this had indeed been a calling-card, and not a memorial.
- Piers Burton-Page, International Record Review, November 2011
"It is with surprise and sadness that one reads the inscription 'Farewell Recital'. But Liverpudlian John McCabe (born in 1939), one of England's finest composers and pianists, bows out of formal concert-giving with this superb recital from George Vass's Presteigne Festival, where he has been a regular for many years ...
"Schubert in A minor begins the recorded programme; very simply a deeply compelling account ... One might instinctively go to Alfred Brendel for this music, but John McCabe brings to it an illumination that is second to none.
"At the recital itself, the Schubert was the final advertised work. It makes a wonderful start here. Given the 'moveable feast' nature of the disc's ordering, I went next to the Ravel; a deliciously sec and lucid account of these varied (Schubert-related) waltzes that avoids preening, hiatuses and affectation. One imagines that Ravel himself would be delighted to hear McCabe's understatement, fluency and composer-union insights.
"On a larger scale, John McCabe's own 20-minute Tenebrae (1993) ... is a complex, wide-ranging, journeying (gathering pace and passion to its mid-point) and satisfying work.
"This is an unusual release. It is valedictory by design yet displays the performer at the top of his game – and what a truly excellent pianist and interpreter John McCabe is. It is moving and inspiring to hear these performances."
- Colin Anderson, Classical Source, 2012
"McCabe's playing in Presteigne showed why he has been a key performer for over fifty years. The Schubert was more muscular and robust than many rivals (Uchida ... seems superficial by comparison) with no loss of sensitivity. The large opening Allegro giusto had a gripping symphonic momentum, the central Andante was beguilingly lyrical and the concluding Allegro vivace perfectly paced; overall, one of the finest accounts I have heard.
"... Howard's Sky and Water inspired by Escher's famous etching but created using a computer sorting algorithm but rendered with delicacy and feeling. Of greater moment for McCabe fans will be his performance of Tenebrae, written for Barry Douglas and previously recorded superbly by Tamami Honma (Metier MSV CD92071). The highlight of the recital, McCabe's magical reading was quite different to Honma's, slightly slower and with richer shades of darkness."
- Guy Rickards, International Piano
'The Schubert Sonata's dignity-emphasised grandeur emerges sharply defined alongside its still-centred calm and dynamic fairy-flight ... [Emily Howard's] Sky and Water ... is very impressive in the hands of the dedicatee, John McCabe... McCabe's Tenebrae is ... an extended reflective piece trawling dark realms in liquid yet intense articulation. It's an impressive and very personal piece with an oily menacing sheen and Gothic virtuosity. Here is a composer who demands your attention and over a long span. There's a bell-haunted poetic soother to end the disc. This comes in the shape of Frank Bridge's Heart's ease which is in the same mood path as his Pastorale collection of the 1970s. It's most magically done by McCabe whose readings evince long preparation and sustained reflection.'
- Rob Barnett, Music Web International, November 11th, 2011
RECORDING DETAILS
Recorded live in St. Andrew's Church, Presteigne, Powys, on 29th August 2010
Engineer: Michael Ponder
Editor: Jennifer Howells
Executive Producer: Martin Anderson