McCabe and Arnold by Hitchin Symphony Orchestra
McCabe and Arnold by Hitchin Symphony Orchestra


McCabe and Arnold by Hitchin Symphony Orchestra
With a well-earned reputation for imaginative programming, the Hitchin Symphony Orchestra concert in St Mary's Church, Hitchin, on 19th May 2018 included two rarely-heard 20th-century British works: John McCabe's Concerto for Chamber Orchestra and Malcolm Arnold's Concerto for Viola and Chamber Orchestra.
The McCabe Concerto is a student work, composed in 1962 for the Chamber Orchestra of the Royal Manchester College of Music (later RNCM), where he was studying, and he described it as a fairly short, uncomplicated piece. It has five contrasted sections. Malcolm Arnold's Concerto for Viola and Chamber Orchestra was first performed in 1971 as part of the Newcastle Festival, with the Northern Sinfonia and violist Roger Best. The soloist in the Hitchin performance, Helen Sanders-Hewett, grew up in Hitchin and was a pupil at Hitchin Girls' School, where she studied with Paul Adrian Rooke, long-time conductor of the Hitchin Symphony Orchestra. Her first violin teacher was Janet Hicks, who again has been the long-time leader of the orchestra. There were also two works by Mendelssohn in the concert, the first being the Wedding March, as a nod towards the Royal Wedding earlier in the day in Windsor. The second was his Symphony No. 3. The performances were excellent throughout, and it was very interesting to hear the early student work by John McCabe. The neglect of the Arnold Concerto is hard to understand, especially after this fine performance by soloist and orchestra.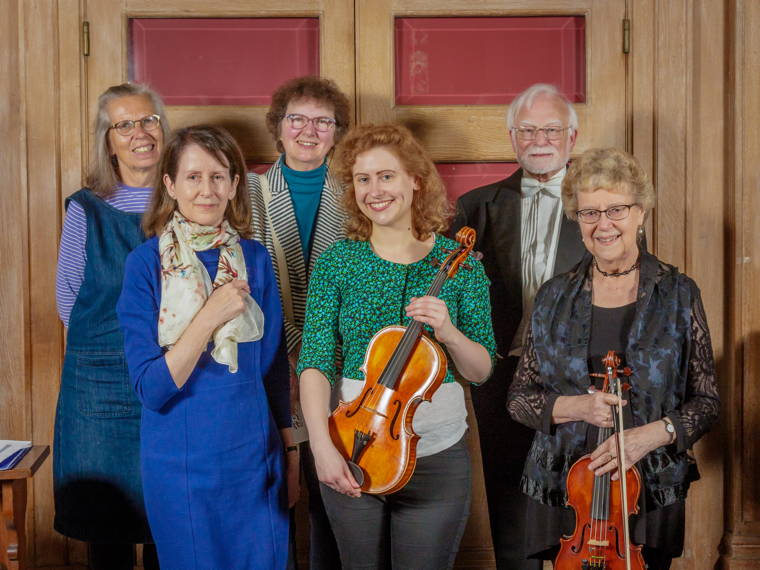 Photo © 2018 Andrew Hyde
A group photograph taken afterwards shows (back, left to right) Katherine Arnold (daughter); Monica McCabe; Paul Adrian Rooke; (front, left to right) Fiona Southey (for many years John McCabe's Promotion Manager at Novellos, and Personal Manager for Malcolm Arnold in his final years); Helen Sanders-Hewett; Janet Hicks.
© Monica McCabe 2018