Murray Khouri 1941-2018 - A Memoir
Murray Khouri 1941-2018 - A Memoir


Murray Khouri 1941-2018 - A Memoir
No-one who ever knew Murray Khouri is likely to forget him – a short, roly-poly man of effervescent enthusiasm and vigour – gigantic in personality, he was cheerful, out-going and out-spoken in colonial manner. It was almost by chance that John and he got to know each other, yet Murray was to play an important role in John's life. John was on his third extensive visit to Australia, in 1985, when he had what was probably his first meeting, and certainly his first musical partnership, with the New Zealand-born clarinettist, then domiciled in Australia. It was in Earle Page College, in Armidale, NSW, and the suggestion had been made that they should give a joint recital. Together they performed Bax's Clarinet Sonata in D, Brahms' Clarinet Sonata Op. 120/1, and Lutosławski's Dance Preludes for clarinet and piano, while John performed several solo works, including his Haydn Variations. Murray later recalled to me that although they had not worked together before, they got on immediately and had complete musical rapport.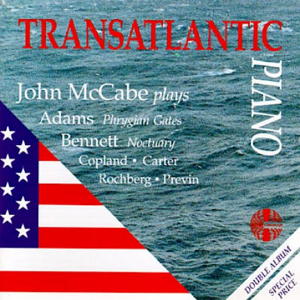 Around 1990 Murray, who always had itchy feet, moved to London and started up a record company which he named Continuum. Being anxious to get his new record company off the ground he suggested that John might like to do some recording for him. John, meanwhile, was anxious to record Richard Rodney Bennett's brilliant, large-scale piano work, Noctuary, which he felt would fit in well with a number of American works he also wished to record. As Richard had lived in New York for some time the collection, on a 2-CD set, was given the title Transatlantic Piano. Apart from Noctuary, the programme included both Carter's and Copland's Piano Sonatas, George Rochberg's Carnival Music, with its blues-y second movement, and Andre Previn's jazz-inflected suite, The Invisible Drummer. Also included was John Adams' epic minimalist piano work, Phrygian Gates, which as I relate in the biography of John that I am currently writing, he recorded in one take. Shortly after these recordings John went on to record for Continuum again, this time performing with Murray the Brahms Clarinet Sonatas Op. 120 Nos.1 and 2, together with the Clarinet Sonata of Hans Gál.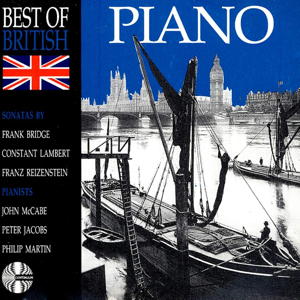 In early 1992 John also recorded a notable CD of Bax for Murray's Continuum label, namely the Piano Sonata No. 2, the single-movement work Legend, and the Piano Sonata in E flat, being the first version of the Symphony No. 1. Between these two bouts of recording he had also recorded Constant Lambert's Piano Sonata for a Continuum CD called The Best of British Piano, on which Peter Jacobs performed Frank Bridge's Piano Sonata and Philip Martin that of Franz Reizenstein. Murray, whose interest in and knowledge of music was wide, was thus a very good friend to British composers and musicians.
Eventually Murray's itchy feet led him to move back to Australia, where his marital career was as lively as his musical one. By his first wife, Sue, he had two children. He later formed in turn two other partnerships, and had another child in one of these. In 2015 he married as his second wife Lyndall Foldvary, who survives him. They settled in Bowral, in the Southern Highlands of NSW. Sadly Murray suffered various medical problems in his last couple of years, including a serious fall on the steps of the Sydney Opera House. Not long before his death he underwent open heart surgery, but seemed to be on the road to recovery.

Murray Khouri, playing music by Graham Hair
Born in Wellington, New Zealand, of Lebanese parents whose forebears had migrated there around the turn of the 20th Century, Murray passed away on 27th October 2018 in Bowral Private Hospital, in Australia. The classical music world will be the poorer for the loss of his love of music, and his outsize personality.
Monica McCabe © 2018