I Musicanti at Conway Hall - Rare Performance of John McCabe Quintet
I Musicanti at Conway Hall - Rare Performance of John McCabe Quintet


I Musicanti at Conway Hall
Rare Performance of John McCabe Quintet
Conway Hall opened just under 100 years ago in Red Lion Square, W1 and is one of the hidden gems of London. True to its founding ethos of "affordable classical music for all", it hosts the longest-running chamber concert series in Europe.
On 30 October 2022 at 6.30pm, I Musicanti will be at the Hall performing a concert of variations on a theme. The theme is the unusual ensemble of Violin, Viola, Cello, Bass and Piano that Schubert used for his ever-popular 'Trout' Quintet, which will end the concert. Less familiar will be the equally wonderful pieces for the same ensemble that both Vaughan Williams and John McCabe composed, which open the concert. The McCabe remained in manuscript form until recently and Novello have produced a special edition of the music for this concert, which will be attended by the composer's widow, Monica McCabe and will be its first performance in many years.
I Musicanti comprises distinguished performers – soloists, orchestral leaders and chamber musicians - assembled by their founder, Bass virtuoso Leon Bosch who are all based in Britain but come from around the world and regularly appear in international concert halls and on recordings. What unites them is their ceaseless musical curiosity, a palpable sense of adventure and an unswerving commitment to excellence.
Tamás András (violin), Robert Smissen (viola), Richard Harwood (cello), Leon Bosch (double bass) and Katya Apekisheva (piano)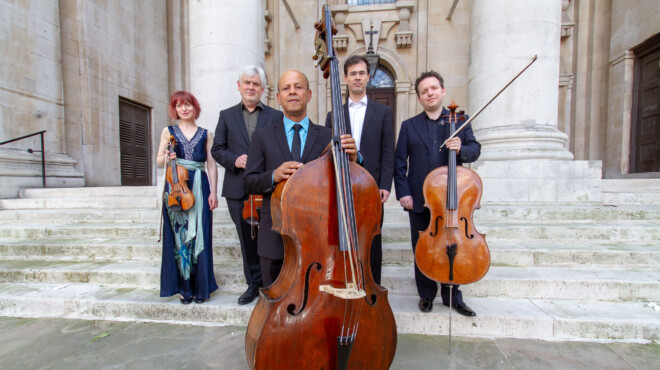 I Musicanti
The Programme consists of three pieces for Violin, Viola, Cello, Double bass and Piano: Vaughan Williams Quintet in C minor, John McCabe 'Sam Variations' and Schubert Quintet in A 'Trout' D.667
This performance of 'Sam Variations' (1989) has been supported by the Schubert Ensemble Trust Commission Grant Scheme.
Copyright © 2022 Antony Barlow