Silver Nocturnes in the Classical Charts
Silver Nocturnes in the Classical Charts


Silver Nocturnes in the Classical Charts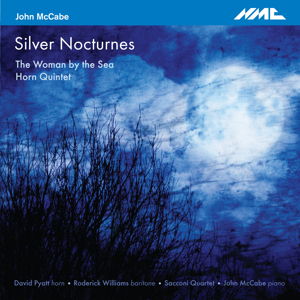 CD cover for NMC D230 - Silver Nocturnes
The NMC CD entitled Silver Nocturnes, with three quintets by John McCabe, has entered the Official Specialist Classical Charts UK at No 17, for the week beginning 26th November 2017. The three quintets are respectively The Woman by the Sea, for piano and string quartet, inspired by the Kenji Mizoguchi film, Sansho Dayu, in which the pianist is John McCabe himself; the eponymous song-cycle, Silver Nocturnes, which also counts as McCabe's String Quartet No 6, for baritone and string quartet, in which the soloist is Roderick Williams, and the Horn Quintet, in which the soloist is David Pyatt. The quartet in each case is the Sacconi Quartet.
Attached for download to this recording, NMC D230, is the reissue of a recording of McCabe's Desert III: Horizon, played by the Australian Piano Trio, Andrew Lorenz (violin), Janis Laurs (cello) and Wendy Lorenz (piano), by kind permission of the artists and also of Earle Page College, Armidale, NSW, Australia, originally released on vinyl as Pagecoll S-1, in 1985, which has been remastered for this release by NMC.
Silver Nocturnes, a setting of words by the so-called 'Silver Poets' of the 16th Century, was commissioned by Mrs Jo Boosey in memory of her husband Simon Boosey. The Horn Quintet was written for David Pyatt and the Sacconi Quartet in 2010, commissioned by the Rodewald Concert Society of Liverpool for their 100th Anniversary in 2011, and was also in gratitude for the many chamber music masterworks McCabe was able to hear in his youth through this Society. It was dedicated to two of his closest friends, also from the Liverpool area, Nancy and Douglas Brady.
© Monica McCabe