Swedish Premiere for McCabe Concerto
Swedish Premiere for McCabe Concerto


Swedish Premiere for McCabe Concerto
The Swedish premiere took place on August 9th 2017 of John McCabe's Les Martinets Noirs (Concerto for two violins and string orchestra). The soloists were the violin duo, Harriet Mackenzie and Philippa Mo, known as Retorica, while the orchestra was the Skallsjö Sommarorkester. The concert took place in St. Nicolai kyrka, Lidköping, as part of the Lidköping Festival. There was no conductor for the work, which can be performed with or without one. Les Martinets Noirs (Swifts) was commissioned by the Amsterdam Sinfonietta (who gave the premiere in 2003) and the Eduard van Beinum Stichting, The Netherlands.
John McCabe wrote of the work, 'Its subtitle, Concerto for two violins and string orchestra, indicates what kind of work it is very precisely – the two violins never play separately, but always form a duo partnership, sharing their musical material and their virtuosity.' John called swifts '…those acrobatic Pucks of the air', adding '…one of my annual delights during the summer is to sit in the garden and watch them wheeling about in the stratosphere, and then swooping down around the trees and chimney-pots before returning again to the heights. Their screaming call seems to indicate their joy in movement.'

John McCabe with Retorica - Harriet Mackenzie and Philippa Mo
Harriet Mackenzie and Philippa Mo recorded the work for Dutton Epoch, with George Vass and his Orchestra Nova in 2012, on CDLX 7290. Separately, Harriet Mackenzie has recently won acclaim for her performance of Deborah Pritchard's Wall of Water Concerto, and with Philippa Mo, Paul Patterson's Allusions, for two violins and orchestra on a Nimbus CD entitled 21st Century Violin Concertos, together with other works, with the English String Orchestra conducted by Kenneth Woods. Philippa Mo is about to embark on a series of concerts in Dorset, to include all the solo violin works of J.S. Bach, also including John McCabe's Maze Dances, for solo violin.
© Monica McCabe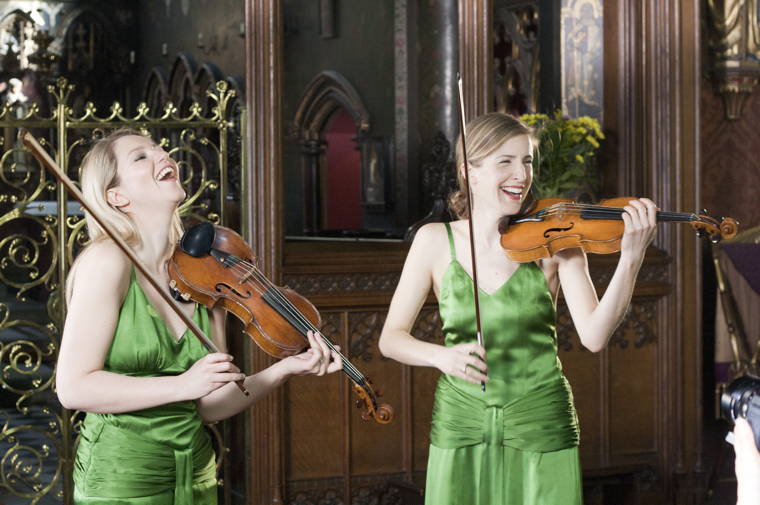 Retorica - Harriet Mackenzie and Philippa Mo