Symphony in Memory
Symphony in Memory


Symphony in Memory
News of a very special concert this year – special in several different ways. The Kensington Symphony Orchestra, which regularly performs such interesting concerts in London, under the inspired direction of Russell Keable, will be celebrating its 60th Anniversary in May 2017, with a concert at the Barbican.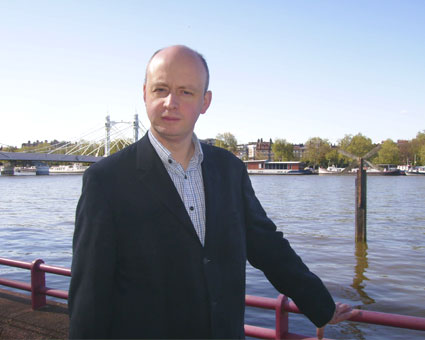 Matthew Taylor. Photo © 2009 Juliet Taylor
The programme will be Mahler's Symphony No. 2 Resurrection, and the premiere of a new symphony by Matthew Taylor, his Fourth, which will be dedicated to the memory of John McCabe. The concert will take place on Monday May 15th 2017, at 7.30pm in the Barbican Hall, so make note of it!
Matthew Taylor writes: The thriving tradition of amateur music-making in the UK and London in particular has almost no precedent in Europe. Since its foundation in 1956, Kensington Symphony Orchestra has produced programmes that are challenging, stimulating and innovative in a way that their professional colleagues often wouldn't dare risk. Following the outstanding performance of my tone poem Storr in 2013, I asked KSO's conductor, Russell Keable, whether he would be interested in launching my next symphony, No. 4. I was delighted when he agreed. An Arts Council England commission was secured and the first performance will be in the Barbican Centre in May. The symphony is written in memory of my old friend and fellow symphonist John McCabe and is dedicated to his widow, Monica. The work is in one large movement that falls into three spans. The first opens with a flood of energy but as it develops gains tension by a gradual broadening of the pulse until, after an extended climax, it eases into a central slow span that is more darkly expressive in character. The finale attempts to recreate some of the jocular humour heard in Haydn's finales. It culminates with a return to the first theme with some vigorous support from two sets of timpani, which are, of course – in a nod to Nielsen – part of an 'Inextinguishable' tradition when writing fourth symphonies!