What the critics say: The year 2007 in the press
What the critics say: The year 2007 in the press


WHAT THE CRITICS SAY: The Year 2007 in the Press
First performances
Symphony on a Pavane (world première)
London Philharmonic Orchestra, conducted by Steven Sloane
11th January 2007, Queen Elizabeth Hall
"The Symphony on a Pavan reveals a composer at the height of his powers, revelling in the complete command of his metier. Hardly surprising, then, that it is a predominantly happy piece - and one which should cartwheel round the world: it could well become an orchestral favourite."
Martin Anderson, Tempo, July 2007
"Its opening movement had a surging, off-kilter energy, marred only by a tendency to say everything at least three times. Strings and trumpets exchanged dance-like refrains over the patter of rototoms. That, and an atmospheric slow movement in which sinuous melodies twisted against a smeary skyscape of high violin glissandos, were the symphony's most memorable parts.
"But the work's thematic material (partly derived from a Pavan and Galliard by William Byrd) was highly accessible and the orchestration intriguing ... this was a persuasive first performance."
Richard Morrison, The Times, 12th January 2007
Horn Concerto (Rainforest IV) (world première)
David Pyatt (horn), BBC National Orchestra of Wales, conducted by Tadaaki Otaka
16th February 2007, St. David's Hall, Cardiff
"Pianist-composer John McCabe's new horn concerto - written in memory of Ifor James and premiered in this concert by David Pyatt and the BBC National Orchestra of Wales - was an affectionate portrait of both a friend and the instrument itself. Nevertheless, the deeper, more searching elements of the writing ensured McCabe's characteristic balance, where instinctively felt ideas are worked through with precision.
"Over the span of a single multi-sectioned movement, the romantic, heroic facet contrasted strongly with the other influence in this concerto, the horn sound of 1950s and 60s west coast jazz, but it was the clarity of Pyatt's engagement with different instruments in the orchestra, notably marimba and woodwinds, that was most persuasive."
Rian Evans, The Guardian, 20th February 2007
Symphony [No. 7] Labyrinth (2007) (world première)
Royal Liverpool Philharmonic Orchestra, conducted by Vasily Petrenko
16th February 2007, St. David's Hall, Cardiff
"Beautifully written and occasionally reminiscent of Sibelius, it generates considerable tension through the juxtaposition and development of soaring woodwind with phrases that rise, with mounting insistence, from the depths of the strings."
Tim Ashley, The Guardian, 17th September 2007
"... inspired by the man-made caves outside Liverpool, and also (the composer suggests) a metaphor for the city's historical struggle from darkness to light. Beginning with Pastoral birdsong, then passing through bitonal turbulence, it gradually gathered its energies into a sonorous dancing finale. A well-made symphony that deserves to be heard outside the city that nurtured it."
Richard Morrison, The Times, 18th September 2007
"... from a contemplative start, this complex piece also tested the RLPO and yet we heard them at their best. The numerous solos which the composer demanded were handled excellently and this, McCabe's Seventh Symphony, is certainly worth a second hearing."
Glyn Mon Hughes, Liverpool Daily Post, 17th September 2007
New Recordings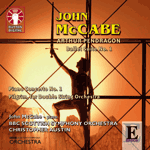 Ballet Suite No 1: Arthur Pendragon; Piano Concerto No 1; Pilgrim for double string orchestra
John McCabe (piano), BBC Scottish Symphony Orchestra,
Christopher Austin (conductor)
This CD was awarded Best New Piano Music Recording of 2007 by International Piano magazine, November/December 2007. The citation reads: "A brilliant performance by McCabe of his 'Southport' Concerto, the first of his four concertos for the instrument to date. The piece was written in 1966-7 and is in the manner of an English Bartók - full of rhythmic élan. This is marvellous music, vividly realised on this superbly engineered CD from Dutton."
International Piano, November/December 2007
"It is an additional pleasure to welcome without reservation a CD of orchestral music by John McCabe, the more so as the composer - an excellent and selfless pianist - is the soloist in his own First Piano Concerto ... The Piano Concerto ... frequently did not do what I half-expected it to do. I had to go back to it quite a few times, on each occasion finding more within the score, until I now know it to be an outstanding composition, very finely performed on this disc. The work which immediately caught my imagination is Pilgrim ... which struck me forcibly as a work of high quality indeed. As Calum MacDonald rightly says in his admirable booklet notes, this work can stand alongside the Tallis Fantasia and Tippett's Concerto for Double String Orchestra as another supreme example of English string writing. The conductor Christopher Austin secures a noble performance and the strings of the BBC Scottish Symphony excel themselves ... the relatively recent ballet scores of McCabe have shown what can be achieved by a gifted and imaginative composer in this field. I have not seen Arthur Pendragon, but on the basis of the concert suite on this disc I should very much like to. There are four movements,which receive here vital performances in vivid dramatic style, very well recorded."
Robert Matthew-Walker, International Record Review, July 2007
"The influences of Poulenc and Stravinsky are fully absorbed in this crisp 20-minute concerto (1967) with McCabe the impressive soloist. A more mature McCabe is heard in the Arthur Pendragon suite from a full-length ballet, truly theatrical music, scored with consistent skill. This enterprising disc is completed by Pilgrim (1998 version for double string orchestra). Inevitably there are echoes of Vaughan Williams, but McCabe's work stands on its own as a very individual and moving act of homage. The BBCSSO strings play with white-hot eloquence under Christopher Austin and the recording is full and resonant."
Michael Kennedy, The Sunday Telegraph, 8th April 2007
"I remember poring over this piano concerto in Manchester's Henry Watson Music Library in my teens, eager to see how 'modern music' was written, but not until now have I heard the piece. Its opening at once brought back the notation - piano trills stretching over pages. The soloist's entry, remarkably, is a minute-long trill, recalled in the third movement. The overall four-part structure is complex and dramatic, the idiom lean and laconic, and, in this account, the work has an often explosive energy. Austin contrives a splendid climax in the string-orchestral Pilgrim, and gives a fiercely committed reading of music from the David Bintley ballet Arthur Pendragon."
Paul Driver, The Sunday Times, 6th May 2007
"Dutton's third John McCabe programme is again built around a piano concerto (10/03, 2/04), in this instance the First (1966) in a strong, vibrant performance from the composer himself. I have long been amazed why this splendid work, written for the 1967 Southport Centenary Festival, has not been recorded before (McCabe's omission from Naxos's British Piano Concerto series is a glaring fault) so Dutton's committed advocacy is unequivocally to be welcomed.
"... Although Bunyan's book was the inspiration, the single-span Pilgrim is not illustrative, rather a slow fantasia with two quicker sections, like a scherzo and trio in negative. As with the concerto's finale, Pilgrim shows how danceable McCabe's concert music is (several works have been successfully choreographed).
"The largest item is a suite from his recent ballet diptych, Arthur (1998-2001) ... The vigour and drive of 'Uther and the Tribes' and 'The Tourney' (in which Arthur draws Excalibur from the Stone) contrasts with the poignant beauty of 'Igraine and Uther'. The finale, 'The Lovers', is a complex conflation of two pas de deux for Lancelot and Guinevere and the ballet's climax, Arthur's vain and misguided massacre of the innocents (attempting to destroy the infant Mordred). Powerful stuff, the BBC Scottish SO's performance under Christopher Austin is inspired. With excellent sound, this issue is very strongly recommended."
Guy Rickards, The Gramophone, June 2007
"It's difficult to get away from the impression that John McCabe means his music to be enjoyed. There is nothing hermetic or self-aggrandizing here, still less any desire to shock the audience into some sort of notional higher consciousness. His style is wide ranging. It can echo late Stravinsky, Tippett or the German symphonist Karl Amadeus Hartmann ... but all with an unmistakable English accent, and with something which - for want of a better phrase - can only be called the common touch. Even at its most abrasive or ingenious, it still has something of Malcolm Arnold's directness and open-heartedness ... The most consistently fine and distinctive piece is Pilgrim - what is it about massed strings that so often brings out the best in English composers? The strings of the BBC Scottish sound as though they enjoy every moment of it; but the whole disc conveys conviction and dedication, and the composer makes a strong and authoritative soloist in the Concerto."
Stephen Johnson, BBC Music Magazine, August 2007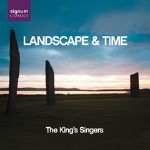 Scenes in America deserta
The King's Singers, album Landscape and Time
Signum Classics SIGCD090
"As the title suggests, the works here share a double theme. All eight evoke landscapes of varying types, from the wide-open, multicoloured desert of the south-western USA (McCabe) to ancient vistas derived from Japan (Jackson Hill) and Finnish literature (Sibelius), from folklore (Kreek and Kodály) to Walter Raleigh's cell as he awaits execution (Chilcott).
"Five of the works are commissions by the King's Singers, so unsurprisingly they prove well suited to their impeccably manicured vocal blend, enchanting the ear from first note to last. The McCabe and Maxwell Davies are the oldest, both from 1986. Although the innocent ear might be hard-pressed to identify the composers, they are both typical products of their creators' expressive missions, satisfying to hear and challenging to sing, especially McCabe's, with its kaleidoscopic range of tonal colours.
"... Signum's sound is warm and close but the acoustic of St Andrew's, Toddington, gives the music room to breathe."
Guy Rickards, Gramophone, March 2007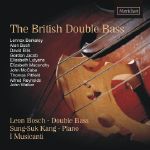 Pueblo for solo double bass
Leon Bosch, album The British Double Bass
Meridian CDE 84550
"McCabe's Pueblo for solo instrument is a major piece written for Bosch. It vividly portrays the desert; not in baking sunshine but icy cold. You must not look for conventional brilliance here except in the sense that the composer adroitly captures a sullen and even ruthless mood. McCabe makes tangy use of the instrument's thrummingly deep bass and also its ethereal counter-tenor."
Rob Barnett, Music Web International (web magazine), December 2007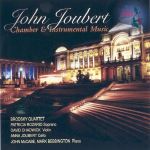 John Joubert: Chamber and Instrumental Music
SOMMCD 060-2
"The three piano sonatas, however, are in different league. No.1, from 1957, is attractively virtuosic, albeit weakened by occasional lapses into keyboard posturing and predictable working-through of material. But it's a work John McCabe knows well and he plays it with considerable elan, as he does the richly textured and (in my view) more interesting Second Sonata.
"Completing the collection is McCabe's terrific reading of the most recent Sonata No.3, premiered just last year at Weymouth ... These two discs should do much to bring Joubert's music to a wider audience."
David Hart, Birmingham Post
"John McCabe is a superb advocate of the three piano sonatas that span Joubert's career from 1957 to today."
Michael Kennedy, The Sunday Telegraph, 20th May 2007
"Joubert's fellow composer John McCabe performs the three piano sonatas with such incisive flair that they alone make this set, with its warm, quite reverberant acoustic, well worth having."
Roderic Dunnett, The Strad, Summer 2007
"... typically undemonstrative but perceptive readings of the piano sonatas."
Richard Whitehouse, International Record Review, June 2007
"Fifteen years separate the first two piano sonatas ... John McCabe recorded them both for Pearl some three decades ago and remains a consummate champion. He also performs the substantial Third Sonata (2006) ... with thrilling discernment and belief."
Andrew Achenbach, Gramophone, August 2007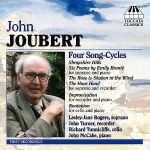 John Joubert: Songs and Chamber Music
Toccata Classics TOCC 0045
"... John McCabe, who has long championed Joubert's work, in fine form at the keyboard."
Stephen Pritchard, The Observer, 21st October 2007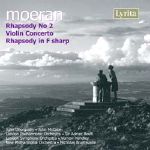 E. J. Moeran: Rhapsody in F sharp for piano and orchestra
Lyrita SRCD 248
"... this lovely work is brought to life by John McCabe, with [Nicholas] Braithwaite conducting."
Colin Anderson, International Record Review, June 2007
"... John McCabe's limpid pianism in the often breathtakingly beautiful Third Rhapsody."
Andrew Achenbach, The Gramophone, January 2008